Welcome to this comprehensive H&M Review, where we delve into the world of one of the most popular and beloved fashion retailers. H&M has been a go-to destination for fashion enthusiasts worldwide, offering trendy and stylish clothing at affordable prices.
In this article, we will explore the brand's history, quality of products, sustainability initiatives, and much more. So, let's dive right in and uncover what makes H&M a preferred choice for fashion-conscious individuals.
Table of Contents
A Brief History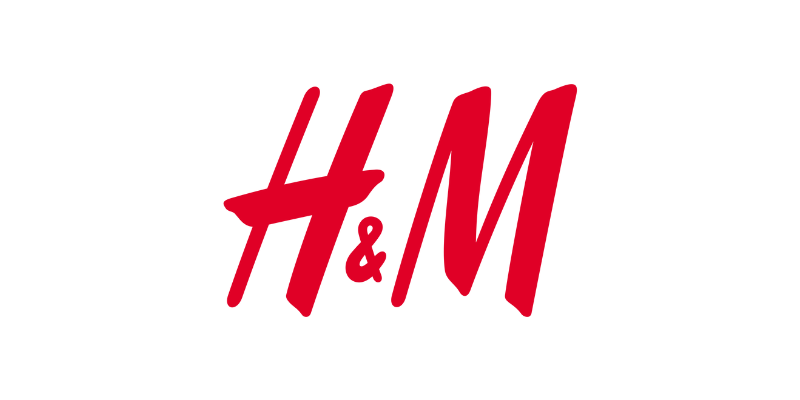 H&M, short for Hennes & Mauritz, was founded in 1947 in Västerås, Sweden, by Erling Persson. Initially, the brand focused on offering women's clothing exclusively, but it later expanded to include men's and children's lines.
Over the years, H&M has grown into a global fashion powerhouse, with stores in over 74 countries and a thriving online presence. The brand's commitment to affordability, quality, and sustainability has contributed to its immense popularity among fashion-savvy individuals worldwide.
H&M Clothing Quality: What to Expect
One of the main reasons H&M has garnered such a dedicated following is its commitment to providing high-quality clothing at affordable prices. H&M carefully selects fabrics and employs rigorous quality control measures to ensure their products meet the expectations of their customers. Whether you're purchasing a casual t-shirt or an elegant dress, you can expect H&M's clothing to be well-made and durable, allowing you to enjoy your favorite pieces for years to come.
H&M Stores: A Global Fashion Phenomenon
With its ever-expanding retail footprint, H&M has become a ubiquitous presence in the fashion industry. Step into any H&M store, and you'll be greeted by a vast array of clothing options, thoughtfully organized by style and category.
The stores themselves are designed to provide an enjoyable shopping experience, with well-lit spaces, stylish displays, and helpful staff members ready to assist you in finding the perfect outfit. Whether you're in bustling city centers or shopping malls, you're likely to find an H&M store nearby.
H&M Online Shopping: Convenience at Your Fingertips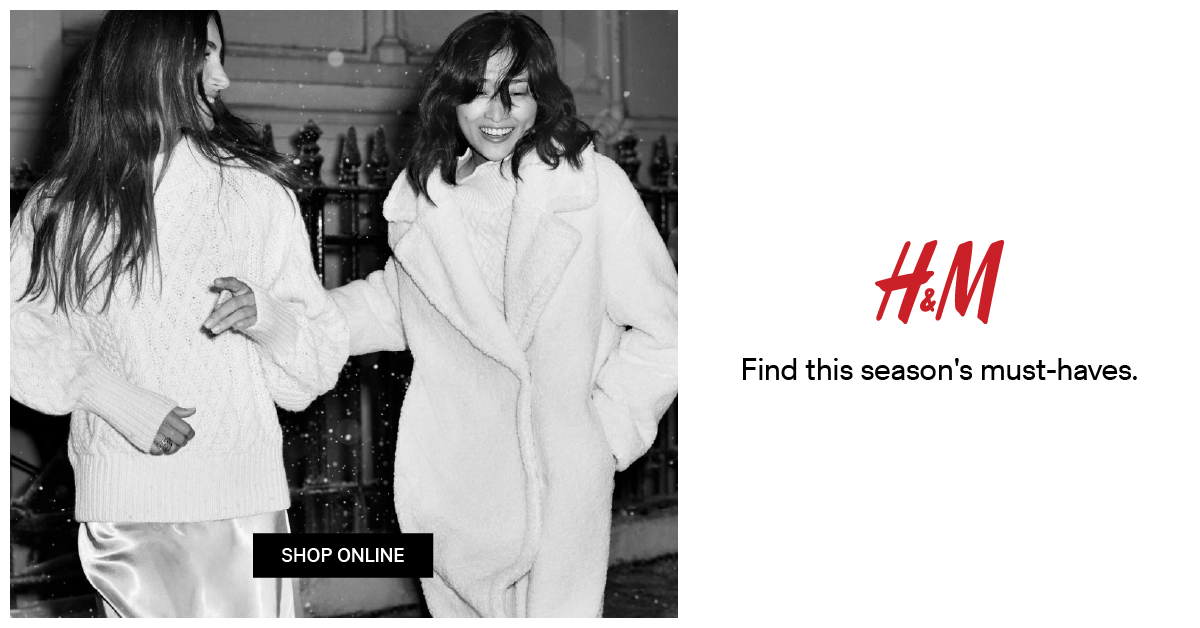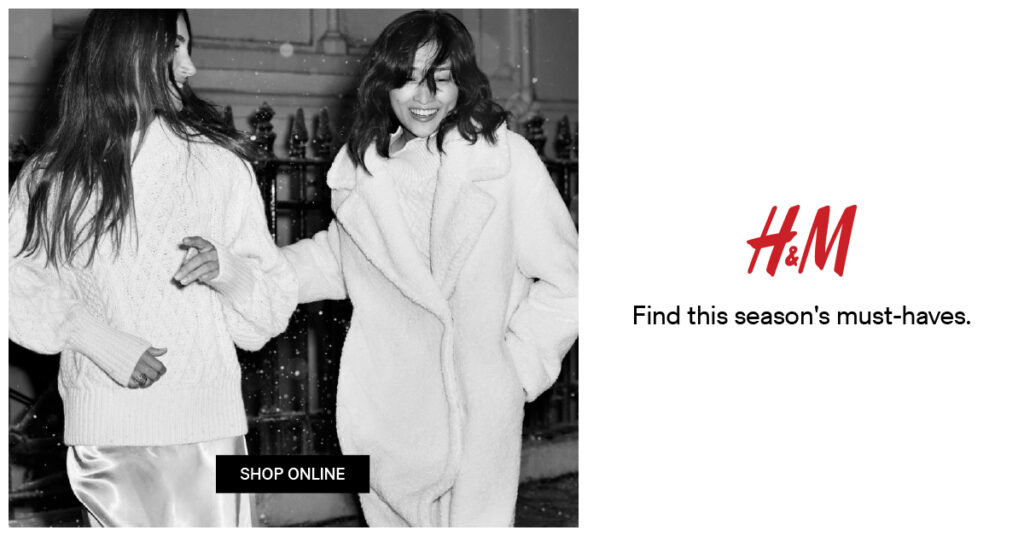 In today's digital age, convenience is key, and H&M has embraced online shopping to cater to the needs of its tech-savvy customers. The H&M website offers an intuitive and user-friendly interface, allowing you to browse their extensive catalog with ease.
With just a few clicks, you can add items to your virtual shopping cart, select your preferred size and color, and have your fashion finds delivered directly to your doorstep. H&M's online shopping experience is seamless, making it a popular choice for busy individuals seeking stylish clothing without the hassle of in-store visits.
Fashion Collections: Trendy Styles for Every Occasion
H&M is renowned for its ability to stay on top of the latest fashion trends, consistently delivering collections that are both current and fashionable. From casual everyday wear to chic evening attire, H&M offers a diverse range of styles to suit every occasion.
Whether you're seeking a classic wardrobe staple or a statement piece to turn heads, H&M's collections are designed to inspire and empower individuals to express their unique sense of style.
Collaborations: Iconic Partnerships
A standout feature of H&M is its collaborations with renowned designers and fashion houses. These limited-edition collections bring together the creative vision of esteemed designers and H&M's accessibility, resulting in highly coveted and affordable fashion pieces.
Past collaborations with industry icons such as Karl Lagerfeld, Balmain, and Versace have generated immense excitement among fashion enthusiasts, often leading to sold-out collections within hours of release. H&M's collaborations allow individuals to experience the glamour of high-end fashion at a fraction of the price.
Sustainability: Ethical Fashion Forward
In recent years, sustainability has become a significant concern within the fashion industry, and H&M has taken significant steps to address this issue. The brand is committed to making fashion more sustainable by implementing initiatives such as using organic and recycled materials, reducing water consumption, and minimizing waste.
H&M also offers a garment collection program, allowing customers to bring in old clothing for recycling. Through these efforts, H&M aims to create a more circular fashion economy and contribute to a greener future.
Size Inclusivity: Fashion for All Body Types
Diversity and inclusivity are integral values embraced by H&M. The brand recognizes that beauty comes in all shapes and sizes, and their clothing reflects this belief. H&M offers a wide range of sizes, including petite, plus, and maternity options, ensuring that individuals of all body types can find fashionable pieces that make them feel confident and comfortable.
By promoting size inclusivity, H&M strives to make fashion accessible to everyone, further enhancing its appeal as a brand that celebrates diversity.
H&M Kids: Adorable Fashion for the Little Ones
H&M's dedication to providing fashionable clothing extends to the youngest members of the family. The brand's children's collection features a delightful assortment of clothing for infants, toddlers, and older kids.
From cute and playful designs to stylish and trendy pieces, H&M Kids offers a wide selection of options for dressing your little ones in the latest fashion trends. With H&M, you can ensure your children look adorable while expressing their unique personalities.
H&M Home: Stylish Decor for Every Space
In addition to clothing, H&M has expanded its offerings to include home decor and furnishings. H&M Home presents an extensive range of stylish and affordable products designed to transform your living spaces into havens of comfort and style.
Whether you're looking for cozy bedding, chic tableware, or trendy decorative accessories, H&M Home provides an array of options to help you create a home that reflects your personal taste and enhances your everyday living experience.
H&M Beauty: Enhancing Your Natural Glow
To complete your fashion-forward look, H&M offers a comprehensive beauty line. From makeup essentials to skincare products and fragrances, H&M Beauty aims to enhance your natural beauty and elevate your overall style.
The brand focuses on quality and affordability, ensuring that you can experiment with different beauty trends without breaking the bank. With H&M Beauty, you can express your individuality and unleash your creativity through the power of cosmetics.
Accessories: Adding the Perfect Finishing Touch
No outfit is complete without the right accessories, and H&M understands the importance of those finishing touches. The brand's accessory collection encompasses a wide range of items, including jewelry, bags, belts, hats, and scarves, allowing you to add a touch of personality to your ensemble. Whether you prefer dainty and delicate pieces or bold and statement-making accessories, H&M has something to cater to every taste and style preference.
H&M Customer Service: Support and Assistance
H&M values its customers and strives to provide exceptional service at every touchpoint. Whether you're shopping in-store or online, their dedicated customer service team is ready to assist you with any inquiries or concerns.
From providing product recommendations to resolving issues with orders or returns, H&M's customer service representatives are knowledgeable, friendly, and committed to ensuring your shopping experience is smooth and satisfactory.
H&M Loyalty Program: Exclusive Rewards for Members
For loyal H&M shoppers, the brand offers a loyalty program known as H&M Membership. By becoming a member, you gain access to exclusive perks and rewards, including early access to sales, birthday discounts, and personalized offers.
H&M Membership allows you to maximize your shopping experience by unlocking additional benefits and enjoying special privileges not available to regular customers.
Sales and Promotions: Bargains You Can't Resist
One of the most exciting aspects of shopping at H&M is their frequent sales and promotions. Throughout the year, H&M offers discounts on select items, allowing you to snag your favorite fashion pieces at even more affordable prices.
Whether it's seasonal sales, holiday promotions, or flash discounts, H&M ensures that there are always opportunities to score incredible bargains and update your wardrobe without straining your budget.

Returns and Exchanges: Hassle-Free Policies
H&M understands that shopping online or in-store sometimes comes with the need for returns or exchanges. To make the process as seamless as possible, H&M has customer-friendly return and exchange policies. Whether you change your mind about a purchase or need a different size, you can rely on H&M's hassle-free return process.
With easy-to-follow instructions and multiple return options, including in-store and mail returns, H&M aims to provide convenience and flexibility when it comes to resolving any issues with your purchases.
H&M Gift Cards: The Perfect Present
If you're struggling to find the ideal gift for a fashion-loving friend or family member, an H&M gift card is the perfect solution. H&M offers gift cards in various denominations, allowing the recipient to explore the brand's extensive selection and choose their own stylish pieces.
Whether it's for a birthday, anniversary, or any special occasion, an H&M gift card ensures that your loved one receives a present they'll genuinely appreciate and enjoy.
H&M Fashion Tips: How to Style Your H&M Pieces
Now that you're familiar with the incredible offerings of H&M, let's delve into some fashion tips on how to style your H&M pieces for maximum impact. Here are a few suggestions to help you create stylish and versatile outfits:
Mix High and Low: Don't be afraid to combine high-end designer pieces with affordable H&M finds. Create a fashion-forward look by pairing a statement designer bag with an H&M dress or styling H&M's trendy accessories with a luxury ensemble.
Layering: Take advantage of H&M's diverse collection and experiment with layering. Combine different textures, colors, and lengths to add depth and interest to your outfits. Try layering a cropped sweater over a maxi dress or pairing a denim jacket with a floral jumpsuit.
Play with Prints: H&M offers a wide range of prints, from classic stripes to bold florals. Embrace your creativity and mix prints for a unique and eye-catching look. Pair a striped top with a floral skirt or layer a printed blazer over a polka dot dress.
Accessorize: Accessories can elevate any outfit. Experiment with H&M's accessories to add a personal touch to your style. Try a statement necklace to enhance a plain dress or layer delicate bracelets and rings for a bohemian vibe.
Versatile Basics: H&M's basics collection is filled with wardrobe essentials that can be mixed and matched for various looks. Invest in timeless pieces like a white button-down shirt, a classic black blazer, or a well-fitting pair of jeans. These versatile basics will serve as a foundation for countless outfits.
Remember, fashion is all about self-expression, so don't be afraid to experiment and have fun with your H&M pieces. Let your unique personality shine through your style choices and create looks that make you feel confident and empowered.
H&M Fashion Hacks: Get the Most out of Your Wardrobe
To make the most of your H&M wardrobe, here are some fashion hacks to help you maximize your style options:
Belt it: Transform oversized or shapeless garments into flattering silhouettes by adding a belt. Cinch a flowy dress at the waist or define your figure by belting a loose-fitting blazer. Belts are versatile accessories that can instantly elevate your look.
Tuck and Roll: Create a more polished and put-together appearance by mastering the art of tucking and rolling. Tuck in a loose blouse into a high-waisted skirt or pants for a clean and streamlined look. Roll up the sleeves of a button-down shirt to add a touch of casual sophistication.
Layering with Knits: Make your summer dresses and tops suitable for colder seasons by layering them with cozy knits. Throw a chunky sweater over a lightweight dress or pair a knitted cardigan with a sleeveless top. Layering adds warmth and style to your outfits.
Mix Textures: Experiment with different fabric textures to create visually interesting outfits. Pair a silky blouse with leather leggings or wear a lace top with denim jeans. Mixing textures adds depth and dimension to your look, making it more visually appealing.
Tailoring: While H&M offers a wide range of sizes, sometimes a little tailoring can take your outfit from good to great. Invest in alterations for key pieces that need a perfect fit. Hemming trousers, taking in a dress, or adjusting sleeve lengths can make a significant difference in the overall look and feel of your outfit.
By incorporating these fashion hacks into your styling routine, you'll discover endless possibilities within your H&M wardrobe and truly make the most of your fashion investments.
H&M Fashion Inspiration: Celebrities and Influencers
When it comes to fashion inspiration, many celebrities and influencers turn to H&M for their stylish ensembles. H&M has collaborated with numerous fashion-forward personalities who are known for their impeccable style. From red carpet events to street-style looks, here are some notable individuals who have been spotted rocking H&M:
Olivia Palermo: Known for her polished and sophisticated style, Olivia Palermo has been seen wearing H&M pieces on various occasions. She effortlessly combines high-end and affordable fashion to create timeless and elegant outfits.
Emma Roberts: Actress Emma Roberts has been photographed wearing H&M designs at both formal events and casual outings. Her eclectic and playful style resonates with H&M's diverse collection, and she often incorporates their pieces into her fashion choices.
Camila Coelho: Brazilian influencer Camila Coelho is renowned for her fashion-forward looks. She frequently showcases H&M pieces in her outfits, demonstrating how to style them in creative and innovative ways.
Vanessa Hong: Fashion influencer Vanessa Hong, known for her blog "The Haute Pursuit," has a unique and edgy style. She incorporates H&M items into her outfits, showcasing how to blend high-fashion pieces with more affordable options.
By following these style icons and exploring their fashion choices, you can gain inspiration on how to incorporate H&M pieces into your own wardrobe and create stylish looks that reflect your personal style.
Frequently Asked Questions (FAQ's)
Is H&M a sustainable brand?
Yes, H&M is actively working towards sustainability. They have implemented initiatives such as using organic and recycled materials, reducing water consumption, and offering a garment collection program for recycling old clothing.
What sizes does H&M offer?
H&M offers a wide range of sizes, including petite, plus, and maternity options. They strive to promote size inclusivity and ensure that individuals of all body types can find fashionable pieces that fit them well.
Can I return or exchange items purchased from H&M?
Yes, H&M has customer-friendly return and exchange policies. Whether you change your mind about a purchase or need a different size, you can easily return or exchange items through in-store or mail returns.
Does H&M have a loyalty program?
Yes, H&M offers a loyalty program called H&M Membership. By becoming a member, you can enjoy exclusive perks and rewards such as early access to sales, birthday discounts, and personalized offers.
Conclusion
H&M is a beloved fashion brand known for its trendy and affordable clothing options. With its wide range of collections, convenient online shopping experience, and commitment to sustainability and size inclusivity, H&M has established itself as a go-to destination for fashion enthusiasts worldwide.
Whether you're looking for a stylish outfit for a special occasion or everyday wear, H&M offers a diverse selection that caters to different tastes and styles. By following the fashion tips and hacks provided, you can make the most of your H&M wardrobe and create stylish and versatile looks that showcase your unique sense of style.
So why wait? Explore the world of H&M and elevate your fashion game today!