Ultra Mobile has gained popularity in the mobile phone industry for its affordable plans and reliable service. In this comprehensive review, we will delve into the various aspects of Ultra Mobile, including its plans and pricing, network coverage, features, customer service, pros and cons, and more.
Whether you're a new customer considering Ultra Mobile or an existing subscriber looking for an in-depth analysis, this review will provide you with valuable insights. So, let's dive into the world of Ultra Mobile and discover if it's the right choice for you.
What Is Ultra Mobile?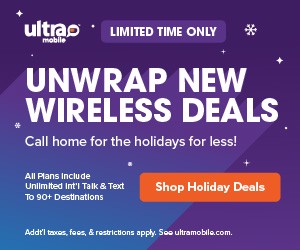 Ultra Mobile is a mobile virtual network operator (MVNO) that offers affordable prepaid plans for customers in the United States. As an MVNO, Ultra Mobile operates on the infrastructure of major carriers, ensuring reliable coverage and high-quality service. The company focuses on providing cost-effective options for individuals, families, and international callers, making it a popular choice for budget-conscious consumers.
Ultra Mobile Plans and Pricing
One of the key attractions of Ultra Mobile is its range of affordable plans. The company offers various options tailored to different needs and budgets. From basic plans with limited data to unlimited plans with high-speed data, Ultra Mobile has something for everyone. Let's explore the available plans:
Basic Plan: This plan offers a limited amount of data and is suitable for users with minimal internet usage.
Unlimited Data Plan: Ideal for heavy internet users, this plan provides unlimited high-speed data without any throttling.
Family Plans: Ultra Mobile offers family plans that allow multiple lines to share data and enjoy cost savings.
International Calling Plans: Ultra Mobile specializes in international calling, with plans that include discounted rates and unlimited calls to select countries.
Network Coverage and Performance


When it comes to network coverage, Ultra Mobile utilizes the infrastructure of major carriers, ensuring extensive coverage across the United States. The network provides reliable service in urban areas as well as rural regions, allowing customers to stay connected wherever they go. Ultra Mobile's network performance is commendable, offering fast and consistent data speeds for browsing, streaming, and downloading content.
Ultra Mobile Features
Ultra Mobile offers a range of features to enhance the user experience. Some notable features include:
Wi-Fi Calling: Users can make and receive calls over Wi-Fi, ensuring seamless connectivity even in areas with weak cellular signals.
International Roaming: Ultra Mobile provides international roaming options, allowing customers to use their plans while traveling abroad.
Mobile Hotspot: With select plans, customers can create a personal Wi-Fi hotspot and share their data connection with other devices.
Ultra Mobile Customer Service
A reliable customer service experience is crucial when choosing a mobile service provider. Ultra Mobile offers multiple support channels, including phone, email, and live chat. The customer service team is responsive and knowledgeable, assisting users with any queries or concerns promptly. Additionally, Ultra Mobile's website provides a comprehensive FAQ section and self-help resources for common issues.
Pros and Cons of Ultra Mobile
Like any mobile service provider, Ultra Mobile has its strengths and weaknesses. Let's take a look at the pros and cons:
Pros:
Affordable plans with flexible options.
Extensive network coverage across the United States.
Dedicated international calling plans for frequent international callers.
Good customer service with multiple support channels.
Additional features like Wi-Fi calling and mobile hotspot.
Cons:
Limited device compatibility, as Ultra Mobile primarily operates on GSM networks.
Data speeds may be slower during peak times for unlimited data users.
How to Sign Up for Ultra Mobile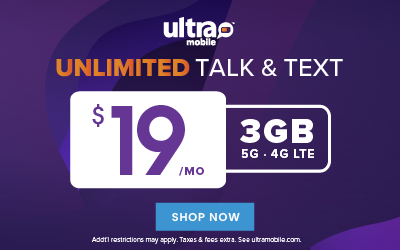 Signing up for Ultra Mobile is a simple and straightforward process. Here's a step-by-step guide:
Visit Ultra Mobile's website or authorized retailers.
Select the desired plan based on your requirements.
Choose a new Ultra Mobile SIM card or port your existing number.
Complete the necessary personal and payment information.
Review your order and confirm the purchase.
Activate your SIM card once it arrives.
Insert the SIM card into your compatible device and start enjoying Ultra Mobile's services.
Ultra Mobile vs. Competitors
To provide a holistic view, let's compare Ultra Mobile with some of its competitors:
Ultra Mobile vs. T-Mobile: While Ultra Mobile operates on T-Mobile's network, it offers more affordable plans targeted towards budget-conscious consumers.
Ultra Mobile vs. Metro by T-Mobile: Metro by T-Mobile offers similar plans, but Ultra Mobile's international calling options give it an edge for frequent international callers.
Ultra Mobile vs. Cricket Wireless: Both Ultra Mobile and Cricket Wireless offer budget-friendly plans, but Ultra Mobile's focus on international calling sets it apart.
Ultra Mobile International Calling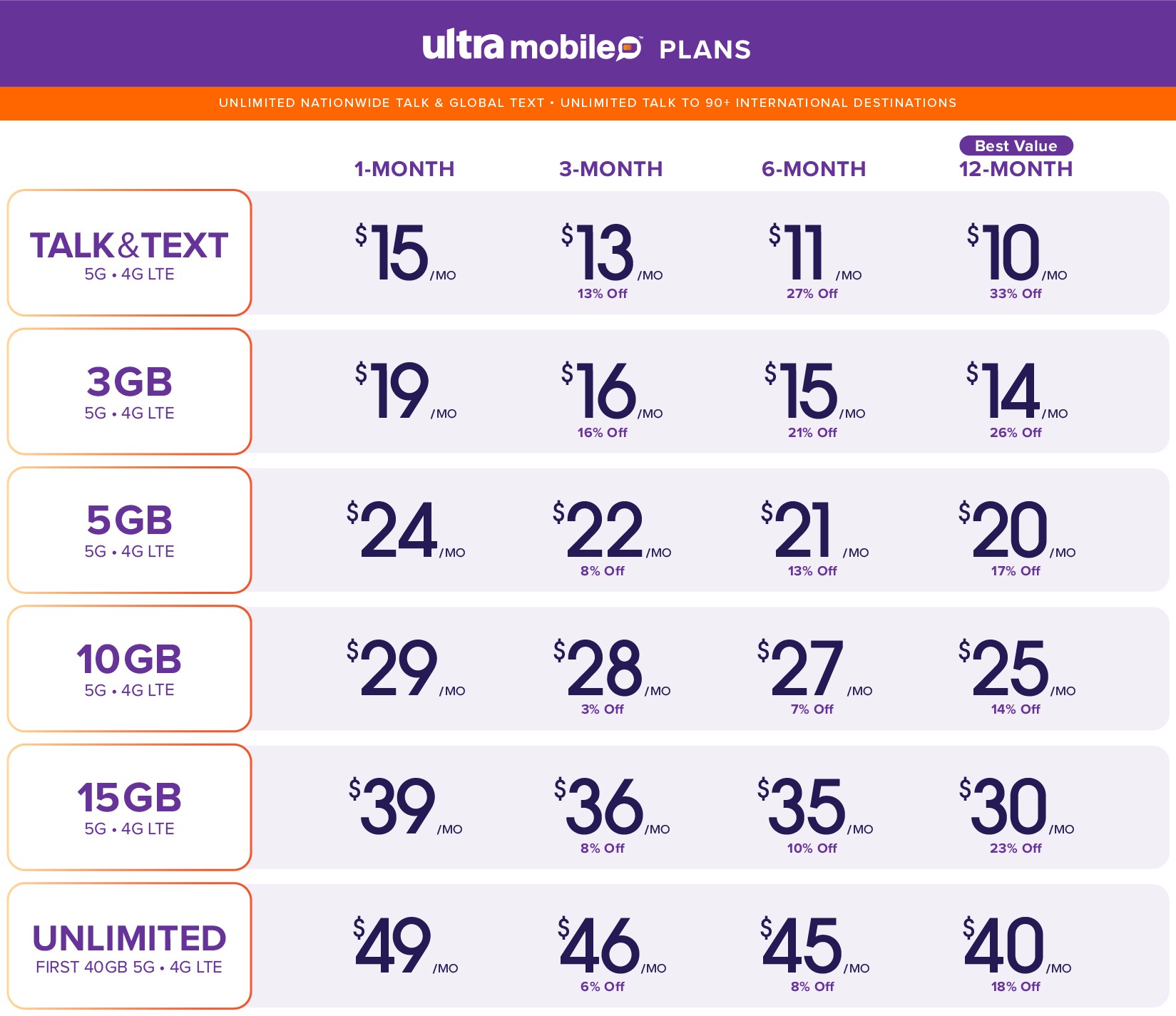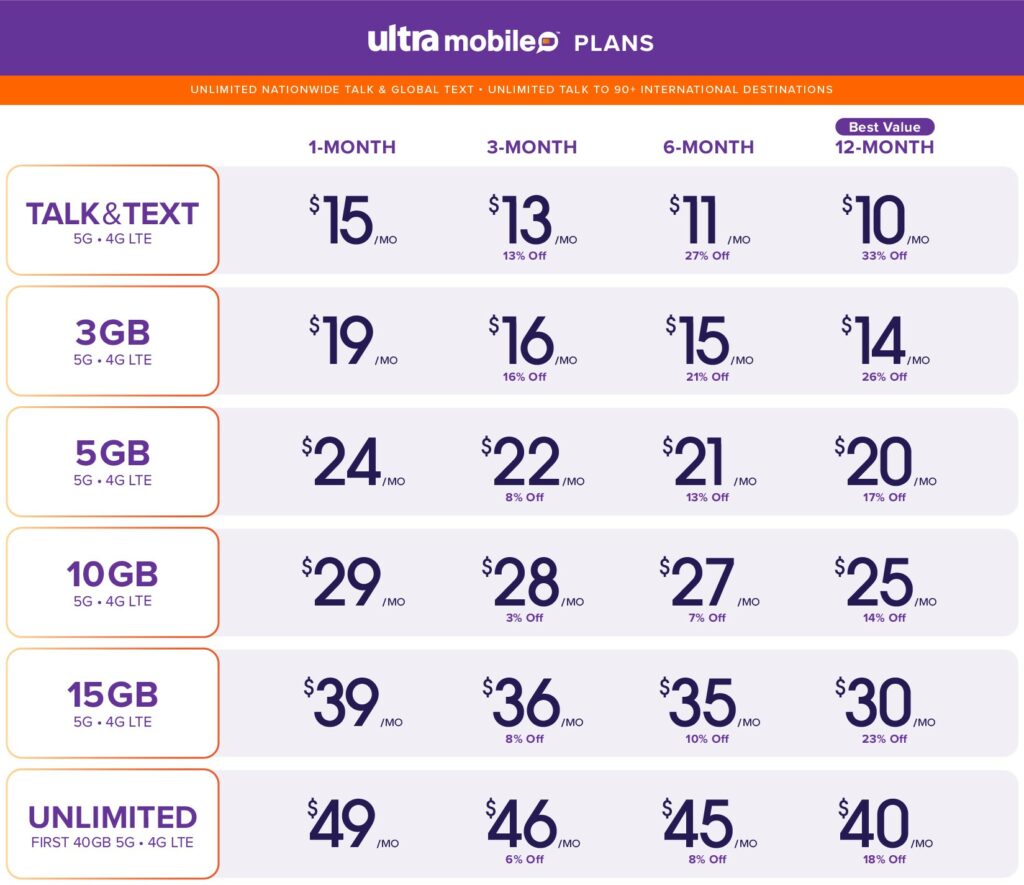 One of the standout features of Ultra Mobile is its international calling capabilities. With select plans, customers can enjoy discounted rates and unlimited calls to over 80 countries. This makes Ultra Mobile an excellent choice for individuals who frequently communicate with friends and family abroad.
Ultra Mobile Roaming Options
For customers who travel internationally, Ultra Mobile offers convenient roaming options. Users can use their plans in over 190 countries, allowing them to stay connected while abroad. Roaming rates vary depending on the destination country, and customers can check Ultra Mobile's website for specific details and pricing.
Ultra Mobile Data Usage and Speed
Ultra Mobile provides reliable data speeds, allowing users to browse the internet, stream videos, and use data-intensive applications without interruptions. While unlimited data plans are available, it's important to note that during peak times, data speeds may be slightly slower for users on unlimited plans. However, the speeds are still sufficient for most day-to-day activities.

Conclusion
In conclusion, Ultra Mobile offers affordable plans, reliable coverage, and a range of features that make it a suitable choice for budget-conscious individuals and frequent international callers. With its competitive pricing, extensive network coverage, and excellent customer service, Ultra Mobile stands out in the mobile phone industry.
However, potential customers should consider the limited device compatibility and the possibility of slightly slower data speeds during peak times. Overall, Ultra Mobile provides an attractive option for those seeking affordable and reliable mobile services.
FAQs
Is Ultra Mobile available nationwide?
Yes, Ultra Mobile provides nationwide coverage across the United States, ensuring reliable service in both urban and rural areas.
Can I use my current phone with Ultra Mobile?
Ultra Mobile operates on GSM networks, so if your current phone is GSM-compatible, you should be able to use it with Ultra Mobile. However, it's recommended to check the compatibility beforehand.
Are there any hidden fees with Ultra Mobile plans?
Ultra Mobile strives to be transparent with its pricing, and there are no hidden fees associated with its plans. The prices displayed on the website