Udemy has been in a limelight since its beginning. But many people still wonder if it is a legitimate website or not and should we buy courses from it. To know such details, we are here with detailed Udemy review that you must read.
Let's get started.
Overview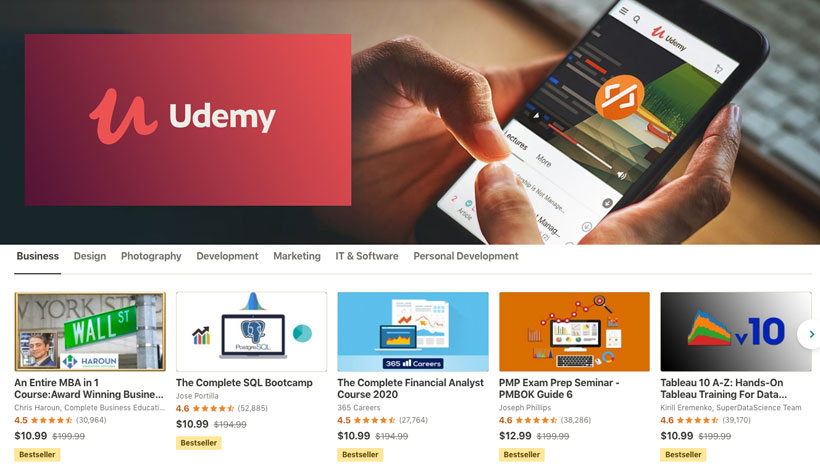 Udemy is an online platform where one can learn various courses from different subjects. The platform has been there since 2010 and has gained the popularity after few years. It is not available in one but all around the globe. If we talk about the stats, almost over 44 million students have registered on their website for different courses. they have around 1000 thousand courses available for everyone.
And indeed, it is so easy that if you want to learn a course on their platform, you just have to register yourself, pick a course, pay some amount for the same and start learning it. Other than being a great place for the learners, it is also an apt place for the instructors too as you can simply register yourself and can upload your courses by selling them.
What are the features of Udemy?
When we tried reviewing it, we reviewed it from every aspect starting from the UI to the support. Let us take a look at everything we have witnessed so far.
Technicality– One thing that made us refer this platform is its amazing technical features that everyone can enjoy using. Here, you can easily download the videos that has the content to understand. And yes, it is extremely easy to do that and you don't have to compromise in your quality too. Also, the moment you buy their courses, you will get a lifetime access of the particular course and thus, you can download the course as many times as you want. You can use their website or their app that is compatible with iOS and Android too to study.
Learning certificate- Although you are not going to get certificates for all the courses, but you will get completion on some of the courses that are eligible to get a certificate after completing the whole course. You can add it in your portfolio and resume as it will be an authorized one.
You can take a test first- There are plenty of courses that you can choose from and that might confuse you too. For that, they have an option where you will be able to get a test drive of a course before you register. In that, you will be eligible to return the whole course within 30 days if you are not finding it useful. However, it comes with several conditions such as you must not have read more than half of the same.
Course features- All the courses that are registered will have some features that will surely be useful for you. To understand it in a better way, let us assume that if you want to watch a video, text or audio lecture but you're not able to find every three in any platform, you can try out Udemy as you will be able to have all forms in one place. You can also find subtitles and quizzes that will make it more interesting and easier to read. Other than that, you will be able to take notes, ask questions and post reviews on it too.
Types of courses offered
Udemy has a huge collection of courses available in their platform. In total, you will find around 15 major and 15 sub categories available. And since each category has more than 15 sub categories and 100s of courses available in it, you are surely going to find the one you want. Some of the major categories are-
Business
Finance and accounting
IT and software
Development
Office Productivity
Design
Lifestyle
Marketing
Photography and video
Music
Teaching and academics
Health and fitness
How to know the right Udemy course?
Now that they have a lot of courses to choose from, you will find difficulty in choosing the right Udemy course for you. Now to know how to find the right course for you, you need to visit their website or application, whatever is preferred. Here, you can either go to category by category or simply search the right keyword and you will be able to get the courses related to the keyword. From there, you will find the courses and you can shortlist them by adding them to your cart and buy the one you prefer. Simple, isn't it?
But how to choose one when there are too many? For that, you can try taking a preview of all the shortlisted course and see. For that, tap on the title of the course and navigate to preview the course. Once done, you can easily read it all and see if it is good one or not.
Exploring Varied Pricings in Udemy Educational Modules
Udemy, a widely embraced online pedagogue, boasts an array of courses catering to diverse proficiency levels. The spectrum of Udemy course costs proves instrumental for a wide-ranging audience. Here's an elucidation of the distinct cost tiers and their inclusions:
Cost-Free Educational Odyssey
Embarking on the cost-free journey opens doors to comprehensive course content sans the encumbrance of assignments or assessments.
Fundamental Endeavors
Delving into the fundamental tier not only grants access to the entire course curriculum but also incorporates evaluative assignments and assessments.
Mid-Tier Mastery
Ascending to the standard echelon, learners gain access to the entire course fabric, accompanied by assignments and assessments of heightened complexity compared to the fundamental tier.
Zenith of Learning Investment
The premium tier propels educational pursuits by providing all-encompassing course material coupled with assignments and assessments of superior intricacy, surpassing the challenges posed by the standard tier.
Udemy money back guarantee
Yes, you read it right. Udemy provides money back guarantee which means that if you have already bought a course and you're not happy with the information provided in the course, you can claim for a refund within 30 days of buying the course. And please know that you need to make up your mind before reading a lot of the content from the same. they have some certain rules to be followed for the same.
Also, you can not claim the refund twice on one course. If you try to do it or keep claiming for refund after buying every course, your account may get banned and you will not be given any refund in future.

Why Udemy?
Udemy is different than the other course provider. To know about it, you must note that it has the largest course marketplace where you can choose numbers of courses. And the prices you will find are highly economical and in fact, in many cases, you can also get a free Udemy course too which surely is a best thing about the website.
You can even buy their courses from other marketplace and yes, their legitimacy rate is 100% as the website has been serving around for a decade now. Even if we see the UI, you are going to find it organized and easy to access. Thus, it surely is much better than its competitors in every form.
Our verdict- Is it worth?
Yes, Udemy is a legitimate website that surely is worthy enough to buy a course from. We have tried the website for buying many courses and most of them were worth spending every penny we have spent. From our note, it is surely a must try ones.