Are you a fanatic online shopper like me? Then this review will particularly bring a smile on your face. You might have come across Kabum.com.br? Time to read review on the same!
KaBuM! is one of the most popular online stores in Brazil, with a massive selection of products ranging from electronics and appliances to clothing and accessories. But how good is the customer experience really? In this review, we'll explore the pros and cons of shopping on KaBuM!, so you can decide if it's right for you.
What is Kabum!


When it opened in 2003, KaBuM! was one of the first online stores in Brazil. Today, it is Latin America's largest online store for Technology and Games. Since its start, the company has been shaped by the stories and successes of a team that is obsessed with agility, quality of service, speed of delivery, and respect for the customer.
With more than 20,000 products and prices that can't be beat, KaBuM! is always ahead of the curve and has the best new releases on the world market before anyone else. More than 8 million people are served, and deliveries are made to more than 5,000 cities across the country.
E-commerce is one of the most visited websites in the country. It is also at the top of the list of virtual stores that Brazilian consumers recommend the most in the technology and games segment*, based on the most important online evaluation indexes and quality seals.
In addition to e-commerce, KaBuM! is a big supporter of e-sports. They created one of the best League of Legends teams in Brazil, KaBuM! Esports, which has won four national titles and was the first Brazilian team to compete at the World Championship.
What sets KaBuM apart from the rest of online shopping sites?
Product Selection
KaBuM! has a wide range of products available for customers to purchase. From the latest in electronics to home appliances, books, games, toys, and much more, you can find almost anything at KaBuM!. They also have a large selection of clothing items such as bras, panties, t-shirts, shorts, and even shoes. With all these options available, customers are sure to find something they need or want.
Price Comparison
When it comes to price comparison between different stores that offer similar products and services, KaBuM! is definitely one of the most competitively priced stores around. They consistently offer low prices that make them an attractive option for shoppers looking for quality products at affordable prices.
Additionally, they offer various promotions and discounts throughout the year which makes their deals even better.
Customer Service
KaBuM! also excels in customer service by offering prompt responses to inquiries and making sure that orders are delivered on time with no issues whatsoever. Their team is always willing to help customers with any questions or concerns they may have about their purchases or their overall shopping experience at KaBuM!.
Furthermore, their website is easy to navigate and provides detailed information about each product so that customers can make informed decisions before purchasing anything.
What we love about Kabum!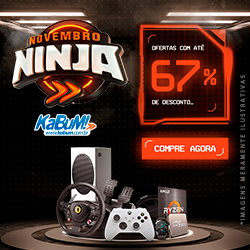 For many years, KaBuM! has been providing an excellent shopping experience for its customers. They focus on providing a wide variety of products ranging from mobile phones to laptops and gaming equipment. The store is well-known for its competitive prices and extensive selection of products. In this review, we'll take a deeper look at KaBuM! and how it stacks up against other online stores.
How you can never miss their best deals and offers?
As a savvy shopper, it always pays to be on the lookout for great deals and promotions. KaBuM!, being one of the biggest retailers in Brazil, has plenty of offers that can help you save big. To take full advantage of such deals, make sure you follow their social media accounts on Twitter and Facebook for updates about upcoming sales and discounts. Additionally, consider signing up for their newsletter to get exclusive offers sent directly to your inbox.
Discounts and Special Promotions
KaBuM frequently runs discounts and special promotions throughout the year. These can range from 10-15% off specific products to even larger discounts if you purchase more than one item. It's important to keep an eye out for these sales so you can take advantage of them. Additionally, make sure to check out their Black Friday/Cyber Monday sale which usually offers even deeper discounts on select items.
Some of their most popular sales include discounts on gaming consoles like Xbox One S or Playstation 4 Pro bundles; TVs such as Smart TVs from Samsung; Computers like HP Pavillion Laptops; cell phones like iPhones or Samsung Galaxy models; kitchen appliances such as refrigerators & microwaves; and much more.  They also offer special financing options if you need help paying off large purchases over a longer period of time. 

Monthly Giveaways
KaBuM also runs monthly giveaways where customers can win free products or discounts on their purchases. All you need to do is follow KaBuM's social media accounts and enter your details into the entry form when prompted. This is an easy way to get your hands on some great products without having to pay full price!
Pre-Order Bonuses
If you pre-order certain items from KaBuM, they will often provide additional bonuses such as extended warranties or free shipping upgrades. This is especially true with tech products like laptops, smartphones, and tablets as they are always being released with new features and upgrades. Pre-ordering these items can save you time and money in the long run by ensuring that you get exactly what you want without having to wait around for stock levels to be replenished again.
Positives
One of the best things about KaBuM! is its incredibly wide selection. The store carries over 1 million products from hundreds of different brands, so you can find just about anything you need. In addition to electronics and home goods, they also offer a large selection of apparel as well as beauty supplies and health & wellness items.
KaBuM! also offers competitive prices on many products. They frequently run sales or promotions with discounts up to 50%. And if you sign up for their loyalty program, you can get even deeper discounts when shopping at KaBuM!.
The user experience on KaBuM! is also quite intuitive. The website design is clean and easy to navigate, making it simple to find what you're looking for. And once your order has been placed, delivery times are often quite short—in some cases as fast as the same day!
Negatives
The biggest downside to shopping on KaBuM! is that they don't offer free shipping like many other online stores do. This means that if you don't qualify for free shipping (by spending over a certain amount), then your purchase will be subject to additional charges depending on where it's being shipped to. This can add up quickly, especially if you're buying multiple items or larger items that require extra shipping fees due to their size or weight.
Another potential issue with shopping at KaBuM! is their customer service policies. If something goes wrong with an order or product — such as delayed delivery or damaged merchandise — they may not be willing to help resolve the issue in a timely manner. This could leave customers feeling frustrated and out of luck if they encounter any issues while using the service.
Conclusion
Overall, KaBuM! offers an excellent shopping experience with great prices and extensive product selection combined with excellent customer service. Whether you're looking for a new laptop or just wanting some new clothing items, you can be sure that you'll find what you need at KaBuM!.
The store is ideal for both experienced shoppers looking for great deals as well as beginners who require assistance in navigating their selection of products. We highly recommend checking out KaBuM!, if you haven't already done so!