Viagogo, the online ticket resale platform, has garnered significant attention over the years, both for its convenience in securing sought-after event tickets and its controversy surrounding pricing and transparency.
In this comprehensive review, we will delve into the world of Viagogo, exploring its history, the ticket buying and selling process, customer service, controversies, and the overall user experience. By the end of this review, you should have a better understanding of what Viagogo offers and the potential pitfalls to be aware of.
What Is Viagogo ?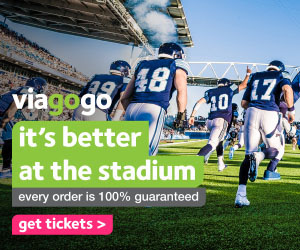 Viagogo was founded in 2006 by Eric Baker, who co-founded another major ticketing platform, StubHub, but left the company before it was sold to eBay. Viagogo aimed to provide a safe and secure platform for the resale of tickets for various events, including concerts, sports events, theater performances, and more. The company quickly expanded its presence globally, operating in multiple countries, and it became known for its focus on connecting buyers and sellers in the secondary ticket market.
The Ticket Buying and Selling Process
Viagogo, like other ticket resale platforms, offers a user-friendly platform for buying and selling event tickets. Here's an overview of the process from both perspectives:
Buying Tickets on Viagogo
Search and Selection: To buy tickets on Viagogo, users start by searching for the event they're interested in attending. The platform offers a wide range of events, from sporting matches to music concerts. Users can filter search results by location, date, price, and ticket type to find the tickets that meet their preferences.
Ticket Listings: Viagogo displays a list of available tickets from various sellers. Each listing provides details such as the section, row, seat numbers, and the price per ticket. The availability of electronic tickets, mobile tickets, or physical tickets is also indicated.
Pricing: This is where Viagogo has faced criticism. The pricing of tickets on the platform is determined by sellers, and it's not uncommon to find tickets listed at significantly higher prices than their face value. Viagogo does display the original ticket price if available, but it may not be readily noticeable, especially if you're in a hurry to secure tickets.
Checkout and Fees: When you select your tickets, you proceed to the checkout process. Viagogo adds service fees and sometimes delivery fees, which can significantly increase the final cost of your tickets. These fees vary depending on the event and the seller.
Delivery: Viagogo offers various delivery options, including electronic tickets and physical delivery. The delivery method and associated fees depend on the event and the seller's preference.
Payment: You can pay for your tickets using various payment methods, including credit and debit cards. Viagogo ensures a secure payment process.
Confirmation: After completing your purchase, you'll receive a confirmation email with your ticket details, and you can access your tickets through the Viagogo website or mobile app.

Selling Tickets on Viagogo
Listing Tickets: Sellers can list their tickets on Viagogo by providing event details, ticket information, and the desired selling price. Viagogo allows sellers to set their own prices, which can be above or below the original face value.
Fulfillment: Sellers must ensure that they can fulfill the order if it sells. This involves providing the tickets to the buyer, either by electronic delivery or physical delivery, depending on the event and the buyer's preference.
Payment: Viagogo processes payments for sellers after the event has taken place. The company typically deducts a percentage of the sale price as a commission fee.
Customer Service: Sellers are responsible for their ticket listings and fulfilling orders. Viagogo provides support to both buyers and sellers in case of issues, such as ticket authenticity concerns or delivery problems.
Customer Service
Viagogo's customer service has been a subject of significant scrutiny and criticism. Users have reported varying experiences with the platform's customer support, which may be attributed to the nature of the ticket resale industry. Here are some key aspects to consider:
Support Channels: Viagogo offers customer support through email and a contact form on their website. The absence of a direct phone support line can be frustrating for customers looking for immediate assistance, especially during high-demand events.
Response Times: Response times from Viagogo's customer support team have been a common concern. Some users have reported delayed responses, particularly when facing urgent issues.
Ticket Authenticity: A major point of contention is ticket authenticity. There have been instances where tickets purchased on Viagogo were not valid at the event, leading to considerable disappointment for buyers. The platform claims to guarantee ticket authenticity, but disputes can be complicated.
Refunds and Exchanges: Viagogo's refund and exchange policies are often criticized for being unclear and challenging to navigate. It's important for buyers to carefully review the specific event's terms and conditions before making a purchase, as refund options can vary.
Communication Challenges: Buyers have sometimes faced difficulties communicating with sellers regarding ticket details, delivery, or event changes. Viagogo provides a communication platform, but it may not always facilitate smooth interactions.
Ticket Guarantees: Viagogo introduced a Ticket Guarantee in an effort to assure buyers that they will receive valid tickets. This guarantee is backed by a guarantee fee, which is added to the ticket's price at checkout.

Controversies
Viagogo has been embroiled in several controversies over the years, making it a topic of scrutiny and criticism in the ticketing industry. Some of the key controversies include:
Pricing Practices: Viagogo has faced allegations of allowing exorbitantly priced tickets on its platform, often resold well above their original face value. This has led to accusations of price gouging and taking advantage of fans' desperation to attend popular events.
Transparency: Transparency has been a major concern with Viagogo. Critics argue that the platform doesn't provide enough information about the original ticket price, fees, and the total cost until the final checkout stage. This can be misleading and frustrating for buyers.
Legal Battles: Viagogo has faced legal challenges in various countries, with authorities accusing the platform of violating consumer protection laws and promoting ticket touting (reselling tickets for profit). Some regions have imposed fines and restrictions on Viagogo's operations.
Reselling Restrictions: Certain artists and event organizers have imposed restrictions on reselling tickets on Viagogo. This can lead to issues for sellers who suddenly find their tickets invalidated or canceled.
Customer Complaints: Viagogo has accumulated a significant number of customer complaints, particularly on online review platforms and social media. Complaints often revolve around ticket authenticity, high prices, and challenging customer service experiences.
The User Experience
The overall user experience with Viagogo is a mixed bag, largely dependent on the specific event, the seller, and the buyer's expectations. Here are some aspects to consider:
Ticket Availability: Viagogo's platform often hosts a broad range of events, from mainstream concerts to niche sports events. This makes it a convenient one-stop-shop for ticket buyers, but ticket availability can be scarce for high-demand events.
Pricing: Viagogo's pricing can be a major deterrent for some buyers. While the convenience of securing hard-to-find tickets may justify the higher prices for some, others may feel that the cost is prohibitive.
Fees: The addition of service fees, which can sometimes be substantial, can be frustrating for buyers. It's essential to carefully review the total cost before completing a purchase.
Ticket Authenticity: The guarantee of ticket authenticity is meant to reassure buyers, but there have been cases of invalid tickets. It's crucial to approach each purchase with caution and be prepared to contact customer support in case of issues.
Delivery: The ticket delivery process varies based on the event and the seller's preference. Electronic tickets are typically the most convenient option, while physical delivery may incur additional fees and time delays.
Search and Navigation: Viagogo's website is user-friendly, with a straightforward search and ticket selection process. The platform is designed to make it easy for users to find and purchase tickets.
Mobile App: Viagogo offers a mobile app that allows users to search for and purchase tickets on the go. The app provides a convenient way to access events and make bookings.
Conclusion
Viagogo is a platform that has both avid supporters and vocal critics. Its value largely depends on the specific circumstances and the user's priorities. It provides a convenient way to access hard-to-find event tickets, especially for sold-out shows and in-demand events. However, the platform has faced persistent criticism for its pricing practices, transparency issues, customer service challenges, and ticket authenticity concerns.
Before using Viagogo, potential users should carefully consider their preferences, the nature of the event they plan to attend, and their tolerance for potential issues. It's crucial to be well-informed about the specific event's terms and conditions and to explore alternative ticketing options, such as primary ticket vendors and other resale platforms, to ensure the best possible ticket buying experience. Viagogo can be a valuable resource, but it requires caution and careful consideration.