In a digital age where web hosting plays a pivotal role in the success of websites, the choice of a hosting provider can greatly impact an online business. Among the myriad options available, Cloudways stands out as a dynamic and versatile managed cloud hosting platform. With its promise of simplicity, scalability, and performance, Cloudways has attracted a broad clientele, ranging from individual bloggers to large e-commerce enterprises.
In this comprehensive review, we delve deep into the features, usability, pricing, performance, and support of Cloudways, aiming to provide readers with an in-depth understanding of its capabilities and limitations.
User Interface and Usability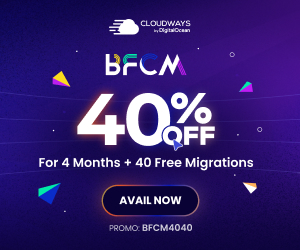 One of Cloudways' key strengths lies in its user-friendly interface. The control panel is refreshingly intuitive and well-organized, making it accessible to users of varying technical expertise. Upon logging into the platform, users are greeted by a clean and minimalistic dashboard, which sets the tone for the overall experience.
Navigating through Cloudways is a breeze. The dashboard provides easy access to key features such as server management, application deployment, and domain management. The menu layout is straightforward, allowing users to efficiently manage their hosting infrastructure without feeling overwhelmed.
What truly sets Cloudways apart is its emphasis on user customization and flexibility. Users can choose from a variety of cloud infrastructure providers, including AWS, Google Cloud, DigitalOcean, Linode, and Vultr, to host their websites. This flexibility enables users to select the infrastructure that best suits their specific needs and budget.
Moreover, Cloudways offers a selection of one-click applications, including popular content management systems like WordPress, Joomla, and Magento. This feature simplifies the process of deploying and managing websites, especially for users without extensive technical knowledge.
Cloudways Scalability and Server Management
Cloudways shines in terms of scalability and server management. Unlike traditional hosting providers, Cloudways adopts a pay-as-you-go model, which means users can scale their resources up or down according to their requirements. This approach is particularly beneficial for businesses experiencing fluctuating traffic or planning for growth, as they can easily adjust server resources in real-time.
The server management features provided by Cloudways are robust and cater to advanced users while remaining accessible to beginners. Users can monitor server performance, access server settings, and execute server-level tasks through the platform. The intuitive control panel empowers users to make server-level changes without having to delve into complex command-line interfaces.
For more technically inclined users, SSH access is available, providing an additional layer of control and customization. This balance between user-friendly interfaces and advanced capabilities makes Cloudways an attractive choice for a diverse range of users.
Pricing and Value for Money
Pricing is often a critical factor in the choice of a hosting provider. Cloudways offers a transparent pricing structure that is both competitive and flexible. Users have the option to select from a range of hosting plans, each tailored to different cloud infrastructure providers. This allows users to find a plan that aligns with their specific needs and budget.
While Cloudways' pricing model might seem slightly higher compared to shared hosting, it provides exceptional value for money considering the features and performance it offers. The pay-as-you-go model ensures that users only pay for the resources they actually consume, making it a cost-effective solution for both small blogs and high-traffic e-commerce websites.
Additionally, the transparency in pricing helps users avoid unexpected costs. Cloudways provides a straightforward pricing calculator on their website, allowing potential customers to estimate their monthly expenses based on their server specifications.

Performance and Speed
Performance is a crucial aspect of any hosting service, and Cloudways excels in this department. By leveraging top-tier cloud infrastructure providers like AWS, Google Cloud, and others, Cloudways ensures that websites hosted on their platform benefit from high availability, reliability, and speed.
One of the standout features is the Content Delivery Network (CDN) integration. Cloudways provides a simple setup process for CDN integration, which dramatically improves website loading times and ensures a smooth user experience for visitors from various geographic locations.
Additionally, Cloudways offers a variety of caching options, including Memcached, Varnish, and Redis, which further enhance website performance. Users can easily enable or configure these caching mechanisms through the control panel, and the platform provides recommendations for the best settings.
Server monitoring is another strong suit of Cloudways. Users can access real-time server performance data, including CPU usage, RAM consumption, and storage, all conveniently displayed on the dashboard. This level of transparency empowers users to optimize their resources and ensure top-notch performance.
Support and Customer Service
In the world of web hosting, having reliable customer support is of paramount importance. Cloudways takes this aspect seriously and offers a range of support options, including live chat, a ticketing system, and an extensive knowledge base.
The live chat support is responsive and helpful. Users can quickly connect with a support agent to resolve any issues or queries. Response times are generally fast, and the support team is knowledgeable and efficient.
In addition to real-time support, Cloudways boasts a comprehensive knowledge base that covers a wide range of topics, from server setup to website management. This resource is an excellent asset for users looking to troubleshoot common issues or learn more about advanced server management.
Security and Backups
Website security is a paramount concern for every website owner. Cloudways takes a proactive approach to security by offering an array of features designed to safeguard websites against threats.
The platform includes regular security patches, dedicated firewalls, and OS-level security hardening to protect hosted applications. Additionally, users have the option to enable automatic backups, ensuring that website data is safe and recoverable in the event of unforeseen issues.
Cloudways also supports free Let's Encrypt SSL certificates, promoting secure connections between websites and visitors. This is an essential feature, especially in an era where online security is a top priority.

Migration and Onboarding
Migrating an existing website to a new hosting provider can be a daunting task. Cloudways aims to simplify this process with its migration and onboarding support. The platform offers free website migrations, handled by their experienced team. This service is especially valuable for users looking to switch from their current hosting provider to Cloudways.
The onboarding process is designed to be seamless, and the control panel provides clear guidance on setting up new servers and deploying applications. Users who are new to Cloudways can easily follow the step-by-step instructions and have their websites up and running without complications.
Downsides and Limitations
No hosting provider is without its limitations, and Cloudways is no exception. It's essential to be aware of these aspects to make an informed decision when choosing a hosting service:
Learning Curve: While Cloudways strives to be user-friendly, users with no prior experience in cloud hosting may face a slight learning curve. Some technical knowledge is beneficial, especially when dealing with server configurations.
Server Restrictions: Cloudways imposes certain server-level restrictions, which may not be suitable for users who require extensive server customization or need specific server-level configurations. These restrictions are in place to ensure the stability and security of the platform.
Pricing Flexibility: While Cloudways' pricing is competitive, users on a very tight budget may find it slightly higher than traditional shared hosting options.
Conclusion
In conclusion, Cloudways is a robust, user-friendly, and performance-driven managed cloud hosting platform that excels in providing an excellent hosting experience. With its intuitive interface, seamless scalability, transparency in pricing, top-tier performance, and reliable customer support, it caters to a diverse audience, from beginners to experienced developers.
The platform's emphasis on customization and flexibility allows users to tailor their hosting environment to meet their specific needs. Whether you're running a personal blog, e-commerce website, or a complex web application, Cloudways offers a solid foundation for your online presence.